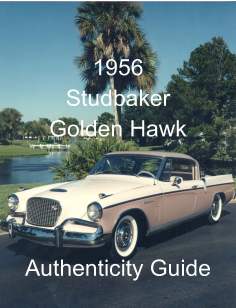 1956 STUDEBAKER GOLDEN HAWK AUTHENTICITY GUIDE.
The New Color version of the updated Authenticity Guide documents most of the quirks. It is loaded with large color photos including all the decals. 169 pages, full color, 8.5x11, spiral bound.

Divided into sections covering the engine compartment, exterior, interior, trunk compartment, paint, upholstery, accessories, supporting documentation, and other miscellaneous items.
$40.00 Including Shipping (USA)

Order Your Copy Today
NOTE: Clicking on the Buy Now button will
direct you to PayPal to complete your order.




We will respond as soon as possible.