THE 1956 GOLDEN HAWK OWNERS REGISTER STORY
By Frank Ambrogio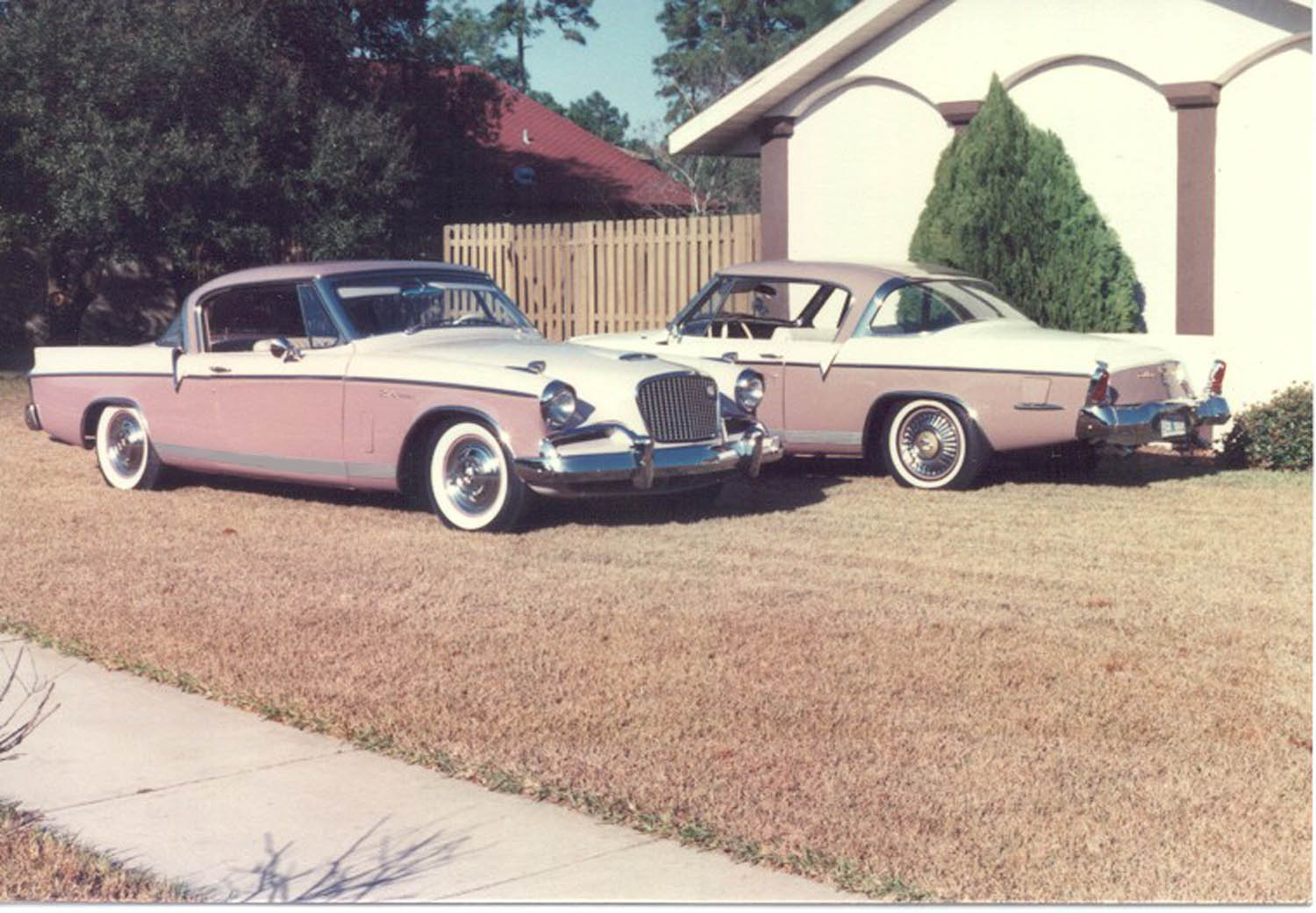 No matter which way you look at it, the 1956 Studebaker Golden Hawk represents one of the finest cars produced by the Studebaker-Packard Corporation. With a "square up" styling update of the original Robert Bourke 1953 Starliner design, and powered by Packard's potent 352 CID OHV V-8 engine, the 275 HP 1956 Studebaker Golden Hawk combined both style and performance in one very neat package while producing one of the highest horsepower-to-weight ratios of any 1956 American stock car.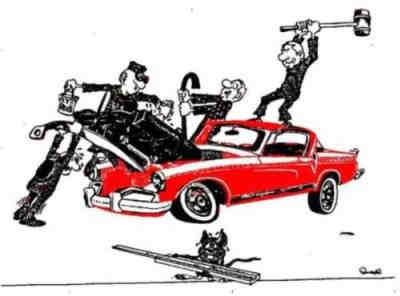 Topped off with a Carter WCFB 4 barrel carburetor, drivers and passengers alike were not disappointed when the need for extra power presented itself. An optional dealer installed dual 4 barrel setup, borrowed from the Packard Caribbean, would get any driver's heart pumping.
Whether coupled to Borg Warner's T85 3 speed/overdrive manual, or Packard's smooth Twin Ultramatic transmission, the 1956 Golden Hawk provided its driver with sports car type performance and touring car comfort. The Ultramatic, mated to a 3.07:1 rear axle, gave plenty of rubber burning power, while the buyer who opted for the manual transmission and 3.92:1 rear axle could expect to join the "frequent tire" program.
A bore of 4", stroke of 3.5", and a compression ratio of 9.5 to 1 produced an advertised maximum torque of 380 lb. ft. at 2800 RPM. Despite the power and weight of the engine, the 1956 Golden Hawk could deliver economy in the 16 to 22 MPG range, if the driver could exercise a little self control.
The exterior dimensions were listed as: wheelbase 120-1/2", overall length 204", height 57". Shipping weight was listed at 3360 lbs, distributed 58% on the front wheels and 42% on the rear wheels. The new 12 volt electrical system featured a Willard 9 plate, 60-amp hours battery. The gas tank would reach the full mark at 18 gallons and the radiator overflowed beyond 26.5 qts. The steering ratio of 33.8 to 1 took 5¬ turns lock to lock giving a turning circle of 41 ft. curb to curb. The complete package was supported by front coil and, rear leaf springs, and rode on 7.10-15, 4 ply tires.
The fiberglass dashboard, with its engine-turned facing, featured eye pleasing, very legible, white numerals and indicators on black face, Stewart Warner gauges enhanced with clock, tachometer, and vacuum gauges as standard equipment. The 160 MPH speedometer and matching 6000 RPM tachometer left no doubt that S/P Corporation engineers expected this car to add a new dimension to Studebaker's staid, economy image. Also standard, and within easy view of the driver, were oil pressure, water temperature, amp, and fuel gauges. The absence of "idiot" lights meant the driver could monitor all major engine functions while secretly enjoying the admiring glances from those who could only hope.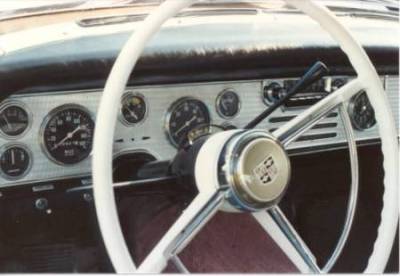 Other standard items included cigar lighter, glove compartment light, electric windshield wipers, full hubcaps, Hill Holder (manual transmissions only), and dual exhaust system. The Hill Holder allowed the driver to release the brake pedal, while on an incline, without the car rolling backwards. The disengagement was accomplished when the clutch pedal was released.
A long list of options was available including internally controlled radio antenna, manual or push button AM radio, rear seat speaker, power steering, power brakes, power windows, front power seat, tinted glass, wire hubcaps, and detachable trunk light. A somewhat unusual seat belt option had the belts anchored to the doors while the inside belt sections were attached to the center floorboard. With finned brake drums for extra cooling, padded dash, and the optional seat belts, the 1956 Golden Hawk added a degree of safety not offered by most of its competitors.
Interiors were quite luxurious with all vinyl interiors or vinyl with cloth inserts in a variety of colors and patterns and color coordinated carpeting. Molded arm rests graced the door and rear seat side panels, while the rear seats were separated by a fold-down center rear seat arm rest, providing an eye pleasing, yet fully functional, extra dimension of comfort.
Most drive reports gave the 1956 Golden Hawk high marks in almost every category. The instrument panel and controls, acceleration, and the brake system were consistently lauded. The April, 1956 issue of Mechanix Illustrated contained a report by Tom McCahill in which he said of the Hawk, "A good-looking car, extremely pleasant to drive." He also felt that more weight at the rear end of the Hawk would improve handling and prevent wheel spin.
Through the years, much has been said about the excessive front end weight and what that did to the steering, especially when going around a curve. I think this has been overstated, especially for normal driving, as I have never experienced a problem on turns in either of my 1956 Golden Hawks. Racer Brown reported the following in the April, 1956 issue of Hot Rod Magazine: "The tenacity with which our "Golden Hawk" stayed stuck to the road through the most violent road race maneuvers was considered exceptional. Only in the fastest turns did the rear end show any signs of "breaking loose," this being a simple matter to correct. Although the front end had a "heavy" feel to it in turns, it showed no tendencies to "wash out" into a slide."
The parking lights were mounted on top of the front fenders and with the modest fiberglass fins adorning the rear fenders, the 1956 Golden Hawk provided the driver with excellent judgment visibility for parking or maneuvering in tight spaces.
The marriage of two orphans produced this illegitimate offspring which is the only car produced by Studebaker-Packard Corporation to combine elements unique to each of the original companies. Studebaker styling and Packard power just may have produced the first, or one of the first, muscle cars.
The 1956 lease (and subsequent sale) of the Utica, Michigan Packard engine plant to Curtiss-Wright meant the end of the short lived Packard V-8 introduced with the 1955 Packards. A similar, but lower powered engine was also sold to American Motors Corporation for use in Nash Ambassador and Hudson Hornet V-8 equipped models. AMC introduced its own V-8 on March 5, 1956. The 190 HP, 250 CID AMC V-8 was used in Hudson and Nash models for the remainder of the model year.
No other Studebaker was Packard powered. 1957 and 1958 Studebaker Golden Hawks were all powered by Studebaker's supercharged 289 V-8. 1957 and 1958 Packards, although fine automobiles, were actually Studebakers, powered by Studebaker engines, and dressed with Packard script and some leftover Packard trim.
This Studebaker/Packard combination has been a source of some frustration to the 1956 Golden Hawk owner. Packard engine parts are not as readily available as Studebaker engine parts. Although similar to Hawk models of other years, many body and trim parts are unique to 1956 Hawks only, and some exclusively to the 1956 Golden Hawk.
Because of this uniqueness, in January, 1989, I started the 1956 Studebaker Golden Hawk Owners Register. Through the years, over 450 owners have joined the fold including members from Sweden, England, Scotland, Puerto Rico, Norway, Australia, Switzerland, and Canada. Our present list of registered owners is in the 250 range.

I publish a periodic newsletter called 56J ONLY which includes letters from members, tips, information on colors and options, and for sale and want ads. I have had great response from the members and together we have provided information on solving a myriad of problems including noisy lifters, and tachometer malfunctions. We have also provided information on radios, decals, special tools, and frame strengthening.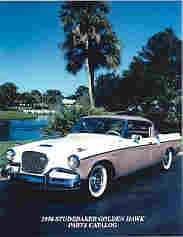 We have also been able to get the steering wheel remanufactured and in March 1994, I completed a 4 year effort which produced The 1956 Studebaker Golden Hawk Parts Catalog. Included in the 320 page catalog are parts drawings, every part number used on the 1956 Golden Hawk, a list of service bulletins, list of accessory codes, and a list of all the nuts and bolts used to hold the various pieces together. To the best of my knowledge, this is the only catalog ever devoted to one particular year and model Studebaker.
In May 1995, I was able to reproduce two tags which go under the hood. One goes on the generator field terminal, and the other goes on the tachometer sending unit switch. Both of these tags were virtually unknown prior to their reproduction and would probably have been lost forever.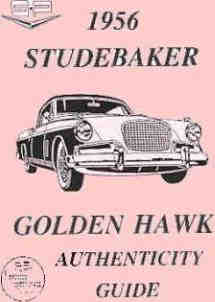 August 1996 was the date I completed the 1956 Studebaker Golden Hawk Authenticity Guide. The 70 page guide features 30 color photos and color graphics showing all the engine compartment decals/appliqués. It shows many of the little differences between these and other Hawk models, often times with supporting documentation.
Check out these and other items in the Publications and Products section of this site. Simply click on Publications and Products from the Options page.

The newsletter, Parts Catalog, and the Authenticity guide are all available on CD, and are also posted on the web site. Additionally, all the original production orders, generated from our data base, are available on CD. Copies of individual original production orders are also available in hard copy form.

I maintain a roster of owners and occasionally print a list of all car's serial numbers and their last known whereabouts. I accomplish this by requiring, as dues, the car's serial and body numbers. To date we have located about 450-500 cars which rest somewhere on the planet and hope to find many more. Some sources indicate that approximately 250 of this model survive, but obviously, we now believe that number to be a little low.
I encourage any owner of a 1956 Studebaker Golden Hawk to complete the on-line registration form by clicking here or from the Options page. If you have more than one car, send the numbers from all of them. There is room on the form for up to four cars. In return I will send you an updated roster, a list of all the cars registered with me, and information on how you can purchase all the back issues of 56J ONLY.
If you own one of these cars, why not join the group in which everyone becomes an expert on the 1956 Studebaker Golden Hawk?