THE HAWK and THE HOOTER GIRLS
By Frank Ambrogio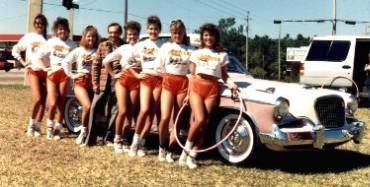 Jennifer, Dotty, Kim, Frank, Stacy, Valentine, Holly, Michelle
Photo by Anita Ambrogio - February 26, 1989
When we purchased our 1956 Golden Hawk on October 9, 1983, we became the immediate brunt of jokes. This was especially true for our brother-in-law, Ed. Ed's favorite remark was "a Studebaker, why not a Chevy?" Well, of course, there is certainly nothing wrong with any Chevy. In fact, I owned two 1956 Chevys in the late 1950 and early 1960s. One was a beautiful Sierra Gold, Bel Air convertible and the other was a solid black, Bel Air Hardtop (Sport Coupe). Since I started driving, I've owned Ford and GM products, mostly Pontiacs. Although I was born, and grew up, in Detroit, I've always had a soft spot in my heart for Studebaker. After much research, I decided that with Packard power, and Studebaker style, the 1956 Golden Hawk had it all.
So, Ed continued to laugh as he helped rebuild the brakes. He continued to laugh as the big 275 hp Packard 352" engine went through a major metamorphosis. Over the next 5+ years, as more and more of the car was replaced with NOS parts, I could hear Ed snickering with reckless abandon. His attitude even permeated to his four sons, only two of whom were born while Studebaker was still in the auto production business.
In the spring of 1988, we finally got the car back from the paint shop. The six week project was completed in only four months. The wait was worth it though, as the car looked great. The expression, "beauty is only skin deep" was evident with a glance at the interior. The push for "inner beauty" was completed later that same year. Occasionally, Ed would be a little less critical in his remarks, but he still couldn't resist the chance to poke a friendly jab at my choice of vehicle. The nephews just thought their uncle had spent too much time near the tailpipe.
During the years the restoration occurred, I became friends with a guy named Tom who lived on the next street. Tom had a 1956 Buick and he was a DJ on a local oldies/talk radio station. The station would do live broadcasts from various locations and one day Tom was doing his show from a nearby gas station. The station was giving 5 cents of every gallon of gas sold that day to the Arnold Palmer Hospital for Children and Women. Hooters Restaurant also sent a contingent of young ladies to the site to help promote the event. I told Anita that I would like to get a picture of the Hooter girls and the Hawk, so we took the camera and headed to the station. While filling the tank, Jennifer came over to say that she loved our car. We asked if she and her gang would pose for a picture and she agreed.
When the photos were developed, I had an 8X12 made for each of the ladies. We went to Hooters and dropped them off. The girls were elated. Jennifer and Valentine went ballistic. I also had an extra copy for the restaurant to hang in their "gallery" and one more for someone special. One day, at the opportune moment, I slipped the extra photo into an envelope and casually left it on Ed's dining room table. Later that evening, when Ed discovered his present, he called to say how much he liked (make that "loved") the photo. He later put it in a frame and hung it over his bed.
Ed seems to like the Golden Hawk a little more than he did originally. Even the nephews seem to have developed a mild appreciation for this truly "attractive" automobile. I guess you could say that (to me) they "no longer give a hoot",
---