For Sale- 56 Golden Hawk. One of only 3 originally built in the P5615 Seaside Green solid color. Itís still has the 352, 3-speed o/d. It is very solid still and would make a good project. Some trim and the interior were removed , but I have all pieces plus some extras needed for the car. It is currently located in Bartow FL. I have lost storage and would like to see it go to a good home before it continues to deteriorate.I would like to get $2500 for the car, but I am open to offers. See Photos Shannon Bruffett, r3pwrd@msn.com (813) 546-2900 (07-2019)

For Sale- 1956 Golden Hawk Studebaker. Partly assembled project car has new paint. Parts include new interior, rebuilt transmission, brake kit and many other new parts. Approximately 50,000 miles on motor. I drove this car before restoration. Contact Ed at 605-251-1064 or 605-446-3313 email ejordal@siouxvalley.net (06-2019)

For sale- 1956 Golden Hawk 56J-K7 Vin # 6800467, Body # 2676. Engine is a 259 Stude V8 with 3 speed and overdrive. This is a running project car, needs total restoration, it has a title
If you are interested or know someone who is, you can contact me (Geoff Gogle) on phone 1-250-583-9142. We are located in Summerland BC Canada or email normageoff@gmail.com or norma@mammothtrucks.com (04-2019)

For sale- Two 1956 Golden Hawks For sale- Two 1956 Golden Hawks
For sale- Two 1956 Golden Hawks located in Independence MN. The information on all our cars for sale is posted on our web site https://classiccarsleftbehind.com/
Information on the 56Js are at:
https://classiccarsleftbehind.com/cars-for-sale/product/1956-studebaker-golden-hawk/?
and
https://classiccarsleftbehind.com/cars-for-sale/product/1956-studebaker-golden-hawk---blk-on-white/?

All the cars are from one owner, my dad, Virgil Marple. He had quite a car collection when he passed away. Trever works with the cars and is very knowledgeable about them. Wendy Marple <wsmarple@gmail.com> Trever tinmanrepair@gmail.com (02-2019)

For sale- 1956 Golden Hawk I checked the odometer: It reads 74,536.8, which is verified the original mileage. The engine is sound & runs good, and even the transmission operates smoothly with no leaks. I am the 2nd owner of the car and have even kept a lot of maintenance records from the 60's including a number of original documents, service records, and glove compartment owner's manuals, etc., that also go with the car. I used to drive the car on occasion up to about 5 years ago and is now stored safely. The floor boards & trunk panels are in excellent/near like new condition, carpets have been removed to prevent moisture damage. The interior, glass, & chrome are all original and in excellent shape. Brake system was all replaced some years ago, but may need attention after long storage. The exhaust system needs replacement. The only sheet metal repair needed would be the usual rust area on the front fenders. They were cosmetically done some years ago along with a re-paint in those areas. Although serviceable the way it is, that would be the one thing that should be addressed. Matt Opack Email: opackjr@gmail.com 4234 Turner Road Duluth, MN 55803 Cell: 218-348-4234 (05-2018)

For sale- I am toying with the idea of selling 3 of my 4 1956 Golden Hawks. They are all project cars, but one is very complete with correct number engine and AT out of car. One other car is restorable with parts that I have. Other car could be restorable or more likely transformed into a modified. I have the correct numbered engines and ATs for these cars as well. I am considering selling them for a value of $7500 and all 3 have correct NV titles. Anyone interested in these can contact me at rcapurro1@gmail.com. I can take pictures at later time if there is interest in these. I would prefer NOT to separate them, but if I did, the price would go up on each unit. (01-2018)

For sale- If anyone is interested in restoring a beauty, please get in touch with Sam Hollingsworth, 2090 Sugar Hill Road, Monroeville, AL 36460 1-251-765-9053 bigsambootsie@hotmail.com. Thanks (01-2018).

For sale-1956 Golden Hawk. Black color. Everything except interior done. All interior original pieces included. Chrome straightened. Metal springs for front and back seats. Garaged. Jeanette Masten 417-766-6592 (08-2015)



Parts & Other Stuff

For sale:
I have a T-85OD transmission plus most, if not all, the bits and pieces cannibalized from a rusty 56J, with hopes of converting my 56J to stick shift. The steering column is missing, but I have the clutch linkages and pedals, shift rods, and lots of other stuff. At my age I know Iíll never get around to the conversion. Iím open to offers for local pickup in the Atlanta area, or possible delivery to Mansfield in September. Email me at chuck@lampman.com.
Also-
NOS Saginaw power steering unit for 56 Studebakers, including 56Js. Iím open to offers for local pickup in the Atlanta area, or possible delivery to Mansfield in September. Email me at chuck@lampman.com. (03/2018)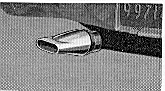 For sale: AC-2754 Exhaust extension. Originally available on 1956 Hawks and station wagons. Chrome finish. Dresses up tailpipe and prevents gasses from marring car finish. ea. 1-104 Oil Filter Decal. 1-083 Valve Cover Decal (2 required). 25-001 American Bosch. 2" X 1-1/2" Wiper Motor Decal. For prices, shipping fees, and availability,
Contact: Studebaker International, 111 Aiken Street Hope, IN 47246, 317-462-3124, FAX 317-462-8891,
Website: www.studebaker-intl.com Email: jim@studebaker-intl.com (01-2019)

For sale: Recast Steering Wheel PN 1540647, white, 17", just like the original, includes the four rings around the ribbed area. Inquire for prices. Shrock Body Shop, 3999 Tyrone Pike, Coalport PA 16627. www.shrockbrothers.com/ (09-2018)

For sale: 1956 Golden Hawk and Sky Hawk headliner trim bows now available!! One set consisting of 3 pieces with ends tapered. $89.95 per set (includes shipping). Contact Myron McDonald at 417-678-4466 or cell 417-229-2603 (09-2018)

For sale: Three 1956 Golden Hawk engines. One includes the automatic transmission, one includes the manual transmission, and one is just the engine. Tom Gallagher 440-986-6611 (Ohio, Leave a Message). (05-2018)

*Wanted: Bare 2x4 intake for 1956 Golden Hawk. Keith Langendorfer 646 Dutch Neck Rd Waldoboro ME 04572 978-968-5049 keith_a_lang@yahoo.com (01-2018)

For sale: PerTronix #1382 and PerTronix II #91382 Ignitor for Autolite IBJ-4001C D, & E distributors. Call or write for current pricing and shipping information. Please mention Golden Hawk Newsletter when ordering. Matt Rosa, Ponderosa Mustang, 850-857-1084 FORD6566@aol.com www.PonderosaMustang.com (01-2018)

For sale: Rebuilt Packard water pumps for sale $95, plus $14 shipping (your core appreciated). Rebuilt Tachometers & Tachometer Sending Units and tachometer interconnect cables for sale, inquire by phone or email. Transmission Puke kit-II: Stop that fluid from belching out the dip stick tube on start up. $7 ppd. Brent Hagen, 6220 SE 55th Ave, Portland OR 97206-6800, phone 971-219-9687 Email ghawk352@effectnet.com Web site: www.1956goldenhawk.com/hagen (01-2017)

For sale: 56J Parts: Mechanical Brake Light Switch $12, Hawk Hydrovac and hose mounting Bracket set $75, Hawk under dash tissue dispenser mounting bracket $30, Upper & Lower Radiator Hoses $25/ea, Fan & PS Belts $10/ea, S/S "Check-Mark" mounting brackets $15/pr, Speedometer Cable $75, Ultra Front Seal $10, Pilot Bearing $25, Brake Wheel Cylinders $35/ea, Inner Fin mouldings(Polished aluminum C-Chromes w/mounting clips) $95/set, Sparkplug Wire Bracket Rubber Grommets $2/ea, 56J Tune-up parts: Premium quality solid core custom 56J & Packard engine spark plug wire sets. Please specify wire bracket type- early finger-type or later grommet-type, and single or dual carburetors. Cost is $66 + $14 shipping. Points $6, Rotor $10, Condenser $7, NOS Dist. Caps Alum contacts $5-brass contacts $15, Carburetor repair kits $40. Sample of NOS parts for sale: 1956-58 Hawk window regulators: LF $150 RF $100; Ultramatic tail shaft seal $10; Packard Exhaust gasket set/$25; 56 Hawk trunk lock housing $85; 56 Hawk front fender spears $85ea/$165pr; 56 Hawk Inst lite sw $30, Climatizer sw $35; 56-64 Hawk RF fender ext $35; Window cranks $35; Inside door handles $35; 12 Volt Sparton Low tone horn $85, Rebuilt parts: 56J Starters $225 & 56J Generators $175 ($75 core); Rebuilt water Pumps $95 (your core appreciated), Rebuilt Carter Fuel Pumps $95 ($75 core charge); Hood latches $75, Revulcanized front motor mounts $220/pr (exhchange), Stainless wheel mouldings, Many good used Parts: Lots of 56J trim, switches, gauges, sheet metal, etc. Please Inquire. Contact: Brent Hagen, 6220 SE 55th Ave., Portland, OR 97206-6800. Email: ghawk352@effectnet.com Phone 971-219-9687 Website: www.1956goldenhawk.com/hagen (01-2017)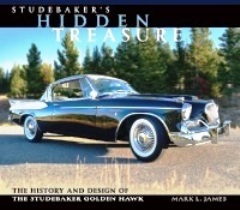 Studebaker's Hidden Treasure: The History and Design of the Studebaker Golden Hawk, by Mark L James.
In this brand new book you'll read about one of the most iconic American performance pioneers of all time- the legendary Studebaker Golden Hawk. We are accepting pre-orders for this limited print run. The book is at the printers and will ship as soon as it arrives in our facility.
DON"T MISS IT!!! Hardbound, 88 pages, great photos $29.95 plus shipping. www.oldemilfordpress.com (814) 883-8067 10-2017



Wanted: Complete changeover to convert my 56J from manual steering to power steering. Ken Knepper 918-582-1954 Don't have email. 09-2016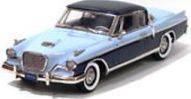 For sale:
Hi: My name is Dave "Buz" Kirkel, member SDC. We build 1/43 scale white metal model cars and have just produced 1956 Golden Hawks in 2 color schemes, Ceramic Green/Snowcap White and Tangerine/Snowcap White. If you would like to let your members know about them, they can be seen on our website www.route66modelcarstore.com. Thank you. Love '56 Golden Hawks! Dave "Buz" 08-2016


For sale: A large stock of Studebaker parts from 1934 - 1966, plus locating services. Hours by appointment. Call anytime, especially early evenings and weekends. Over 40 years Studebaker parts experience, Joliet Studebaker Service, Robert Kapteyn (Sr.), 112 Bissel Street, Joliet IL 60432, 815-722-7262, Internet: studebaker@mac.com (04-2015)

For sale: 1956 Hawk Taillight Lenses #1312681 reproduction, excellent quality. 1540137 Wiper Switch Reproduction. 1540135 Headlamp switch reproduction. Other parts as well at http://www.StudebakerParts.com Chuck Collins, 2410 W. Freeway Ln., Phoenix AZ 85021 or 602-995-5311, e-mail chuck@studebakerparts.com (04-2015)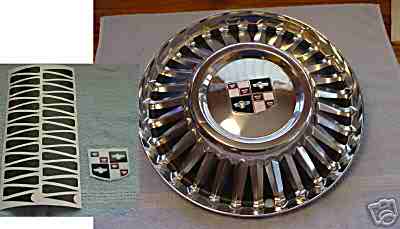 For sale:
Adhesive Vinyl Inserts, for all 1956-1961 Studebakers with full wheel cover (AC 2799). Enough vinyl inserts to apply to 4 hubcaps, with spare inserts. Directions are included $27.50, includes shipping in the continental U.S.
Right Impression, 319 S Chestnut St, Kimball, NE 69145, Phone/Fax:(308) 235-3386
rimpres@earthlink.net https://www.brassnamebadge.com/ (04-2015)

Fo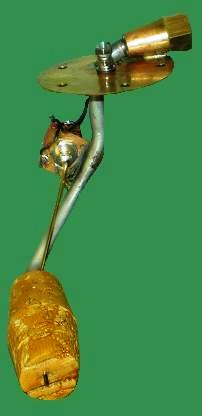 r sale:
New, reproduction Fuel Tank Sending Units, ignition coils, and more are available from KM Lifestyle Manufacturing Company, 12 Jacques Street Worcester, MA, 01603.
Call (508)792-9500 Monday - Friday 9AM - 5PM (EST) kmlifestyle@hotmail.com
for prices or visit http://www.mykmlifestyle.com/ (04-2015)

For sale: Packard V8 engines built to your specifications. I have a completely rebuilt 352"Ě long block in stock for $3995. Can build custom 374"Ě to Jet Streak specifications. NOS Packard V8 hydraulic valve lifters made by Johnson, a major OEM supplier $10.00 each. Cam Retainer Plate and Spacer - The factory engineers redesigned the oiling system to ameliorate the lifter clatter problems. The second-design cam retainer plate and spacer has been remanufactured in A2 tool steel and is now available. Don't rebuild your Packard V8 without it. - $75. Oldsmobile V8 Oil Pump Conversion Kit - $210, Oldsmobile V8 Standard Duty Oil Pump and Pickup - $100, Oldsmobile V8 High Volume Oil Pump and Pickup - $150. Re-Manufactured Packard Oil Pump Ė Vacuum Pump replaced by a 1/2ĒĚ cast iron bottom plate and triple the bearing area - $350 and exchange of your pump. Neoprene Rear Main Seal - $25. Reinforced Front Balance Damper and Neoprene Seal - $100 and exchange of your damper. I have any and all new and used parts for your Packard V8. PM me PackardV8@comcast.net with questions or requests. For orders, send cashier's check, money order or PayPal to Jack Vines, 3227 E. 28th Avenue, Spokane, WA 99223 Packard V8 Limited. (01-2015)

For sale: We now offer perforated headliners for your 1956 Hawks. Each piece is carefully cut from new perforated hardboard in the correct hole pattern. Pieces are pre-form fitted for the edges and painted Phantom White. Cost is only $345.00 a set plus shipping via FedEX. We can also ship to Canada via US post. Call Loga Enterprises, 5399 Old Town Hall Road, Eau Claire Wisconsin 54701-8952, Email: logaent1@clearwire.net 715-832-7302.We accept Visa. MasterCard, Discover, and PyaPal. (01-2014)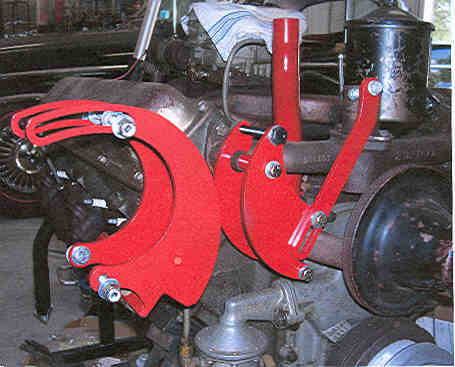 For sale:
Want dependable
air conditionin
g for your 1955-56 V-8 Packard engine in whichever car it is in? You will need the third puller and bolt for the crankshaft to drive the compressor. Modern, dependable serviceable equipment starts with the Sanden compressor, 100-AMP alternator to keep your battery charged, and the electric cooling fan.
AC pulley and bolt $300.00
,
Bracket Kit for alternator & compressor including offset oil fill tube and al hardware, NAPA numbers for belts, etc. $350
. Includes shipping and handling. For more information, Click Here
ALSO: TH400 Automatic Transmission Conversion Kit. Now you can drive your 1956 Golden Hawk with confidence while eliminating that puking overflow and get more power to the wheels. For more information, Click Here or contact Jack Nordstrom 4975-IH 35 S., New Braunfels, Texas 78132, phone
800-775-7077
. (01-2013)



For sale: Many used 56 J Parts, Hawk doors and rear quarters, Packard V-8s, 3spd overdrive setups, Power steering pumps. Call for needs. Many Studebaker Parts Available. K Body Window Flipper Restoration Services, Stainless steel straightening, polishing. Very Good 56 Golden Hawk Hood. Dwayne Jacobson, 2620 Lake View Drive, Junction City, WI 54443. email - studebaker56j@mac.com Phone 715-572-7292. (01-2013)